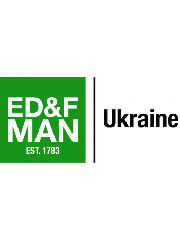 Address: Bogdan Khmelnytsky, 19-21А, Business-center «Leonardo», Kyiv, Ukraine, 01030.
ED&F Man was founded in 1783 in the Great Britain. Nowadays the company is the largest provider of food, sugar, molasses, spices, coffee, animal feed and other products in more than 50 countries.
Every year, ED & F Man sells more than 11 million bags of coffee and 10 million tons of sugar.
Since 2007, ED & F Man has business in Ukraine. After capital reconstruction, the company resumed operation of the only sugar factory in the South of Ukraine, which produces 50 thousand tons of sugar annually. In addition to launching a modern plant, ED & F Man implements a comprehensive investment program for irrigation in the Kherson and Mykolaiv regions.
LLC Ukrainian Sugar Company – a subsidiary company of ED&F Man, which is guided by international standards. In the Ukrainian market, USC is as a young dynamically developing sugar company with foreign investment, the main purpose of which is the processing of sugar beet and raw sugar and production of high-quality sugar. Today, the plant is able to process up to 1 thousand tons of cane sugar and 6000 tons of sugar beet per day and due to use of the coal energy has the lowest average cost, compared with other plants in Ukraine. In its activity, Ukrainian Sugar Company uses advanced technologies and continuously improves the technological process of production.
The plant produces white sugar of the I, II and III categories, and also buys raw and sugar for sale to final and industrial consumers, wholesalers. Introduced food safety systems to meet the requirements of ISO 22000 and environmental safety system according to ISO 14001.
USC has excellent storage facilities: 2 warehouses for bulk storage (silo) 20,000 tons each, sugar warehouse up to 40 thousand tons and raw sugar warehouse up to 16 thousand tons. The main task of the company is to create its own raw material base, independent from external factors, and growth of high-quality beet.