AGRI-INDUSTRIAL HOLDING ASTARTA-KYIV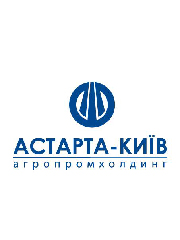 Address: 04071, Kyiv, Yaroslavska str., 58.
Astarta-Kyiv integrated agri-industrial holding is one of the leading vertically the main business of which is aimed on providing Ukrainian industrial consumers and popu-lation with high-quality sugar.
Astarta Holding N.V. is the company that controls the agri-industrial holding «Astarta-Kyiv». It is engaged in the sugar production. The holding includes 6 sugar refineries, as well as 60 agricultural enterprises, which cultivate more than 155 thousand hectares of land. The company's production capacities are located in Poltava, Vinnytsia Khmelnytsk and Kharkiv regions.
Besides, ASTARTA also has capacities for soybean processing (soybean processing plant) and biogas production (bio-energy complex) in Globyno, Poltava region.
At the beginning of 2021, «Astarta» completed the sale of its two sugar plants in Kharkiv region – Savynskiy and Novoivanivskiy. The Company's management was focusing on improving the profitability of the Sugar Segment and optimising the corresponding asset base by concentrating production on its core sugar mills.
Since Kharkiv region does not have sufficient raw materials base and sugar beet growing farms, «Astarta»'s decided that divestment of these non-core assets will free up its internal resources for the main sugar mills in the Poltava, Vinnitsa and Khmelnitsk regions.
The Company's main sugar mills are supplied by «Astarta»'s own farming operations and ensure stable production and cost control within vertical integration of sugar beet processing.
As a producer of the highest quality sugar, «Astarta»'s business model is built on decades of relationships with the leading food-processors and beverage producers in Ukraine. By optimising its asset base the Company underlines its core competence of being a reliable business partner for its long-term industrial customers.