AGRI-INDUSTRIAL HOLDING ASTARTA-KYIV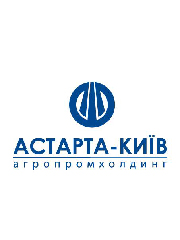 Address: 04071, Kyiv, Yaroslavska str., 58.
Astarta-Kyiv integrated agri-industrial holding is one of the leading vertically the main business of which is aimed on providing Ukrainian industrial consumers and popu-lation with high-quality sugar.
Astarta Holding N.V. is the company that controls the agri-industrial holding «Astarta-Kyiv». It is engaged in the sugar production. The holding includes 8 sugar refineries, as well as 60 agricultural enterprises, which cultivate more than 155 thousand hectares of land. The company's production capacities are located in Poltava, Vinnytsia Khmelnytsk and Kharkiv regions.
Besides, ASTARTA also has capacities for soybean processing (soybean processing plant) and biogas production (bio-energy complex) in Globyno, Poltava region.