Sugar World 2019: Ukrainian sugar industry has an untapped potential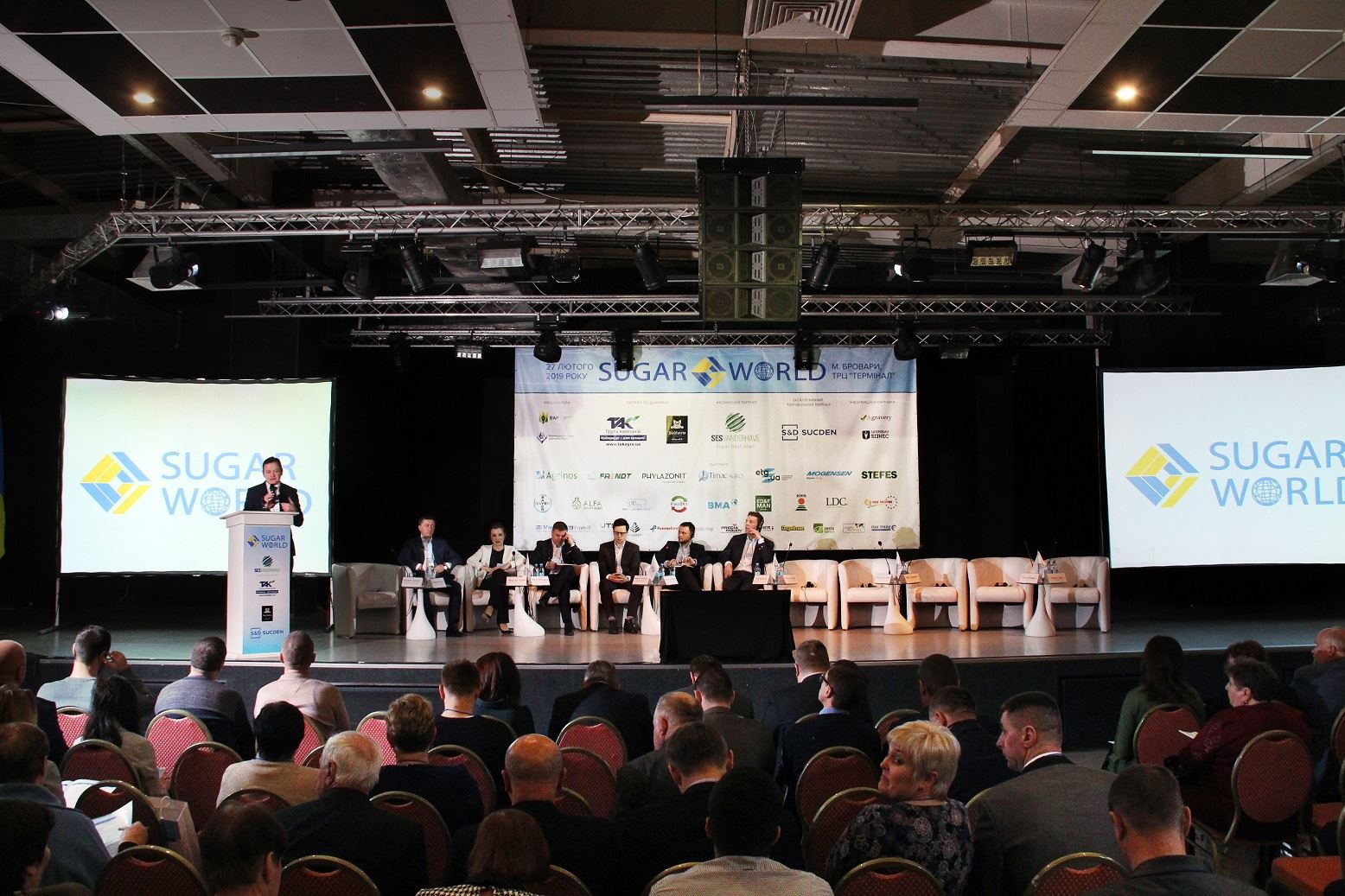 On February 27, the 3-rd International Congress «Sugar World 2019» took place in Brovary, bringing together about 450 sugar beet producers and processors, international experts and representatives of commercial companies. The event was focused on the technological aspects of the effective sugar beet cultivation and modern trends in the quality sugar production. You can review all the materials and listen to audio by clicking on the link.
Section 1. SUGAR MARKET AND SUGAR PRODUCTION TECHNOLOGY
Andrii Dykun, Chairman of the National Association of Sugar Producers of Ukraine «Ukrsugar» (Ukraine): Sugar industry of Ukraine - presentation
Serhiy Labazyuk, People's Deputy of Ukraine: State support of the industry
Marina Sidak, Head of analytical service, Sucden (France): Global sugar market. Trade flows of sugar in the CIS countries: what has changed, what to expect?
Ruslana Butylo, Deputy Chairman of the Board of National Association of Sugar Producers of Ukraine «Ukrsugar» (Ukraine): Ukrainian sugar market
Tim Huisman, ED&F Man (United Kingdom) Head of by-products sales department: The world market of by-products (molasses, pulp)
Aleksander Bondar, project manager, EnerDry (Denmark): Increasing the payback of steam dryer projects for pulp and other products
Yevhen Lukashevich, Head of UTС (Ukraine): UTC and UM Biogas Power Plant. Numbers. Calculations. Realization
Yuriy Epshteyn, Director, Accord Ltd: What caused the boom in the construction of biogas complexes by sugar factories in Ukraine?
Fabien Majchrzak, Maguin (France): Splitting thin pulp with Maguin - the fist clearing step
Damien Geoffoy, Maguin (France): Ways of diversifiation of production at sugar factories
Olivier Deur, Maguin (France): Pulp drying
Volodymyr Milkevych, Ph.D. in Technical Sciences, Associate Professor of the Department of Sugar Production and Saccharides, Institute for Graduate Studies NUFT (Ukraine): Causes of deterioration of technological quality of sugar beet and ways of their solution in the production process
Lyudmila Chernyavska, Doctor of Technical Sciences, Professor, Head of the Department of raw materials, control and accounting of the Ukrainian Research Institute of Sugar Industry (Ukraine): Express methods for the determination of microbiology and invert in semi-manufactured products of sugar production
Leonid Osadchy, Head of the Department of Processes and Devices of UkrNII of the Sugar Industry, Ph.D. in Technical Sciences (Ukraine): Preparation of water for the diffsion process
Lyubomyr Khomychak, Doctor of Engineering Science, Corresponding Member, Deputy Director for Scientifi Work of the Institute of Food Resources of the National Academy of Sciences of Ukraine (Ukraine): Evaluating effiency of fitration of juices and syrup and ways of reducing their residual content of calcium salts
Ludek Novak, Business consultant, Agrinova Solutions, LLC (Ukraine): Polyalkylene glycols set new standards for dealing with foam in the process of sugar production
Kostyantyn Skoryk, Ph.D. in Technical Sciences, Professor of Sugar and Sugar Production Department, Institute for Graduate Studies, National University of Food Technologies (Ukraine): Factors that inflence the improvement of granulometric composition of sugar and ways to control them
Michael Haack, Sales Director Mogensen GmbH & Co. KG (Germany): Process and Solution Competence – Processing of sugar
Section 2. TECHNOLOGY OF SUGAR BEET PRODUCTION
Stephan Gilis, Head Product Manager, SESVANDERHAVE (Belgium): Prospects in the production of sugar beet seeds in the context of new technologies (ORGANIC, GMO, ALS, Winter BEET) and Ukraine's role at international level in sugar beet seed production
Alexander Zhiglaty, Director, Biodobryva, LLC (Ukraine): Technological innovations in the cultivation of sugar beets - the experience of LLC «Kyshchentsi»
Jens Mayer, Head of agricultural serveice in Ukraine, Strube Ukraine GmbH, LLC (Germany): Technological aspects of seedbed refiing and sugar beet sowing
Olexander Akulov, Ph. D. in Biological Sciences, Associate Professor, KhNU (Ukraine): Fighting the rot of sugar beet
Ivan Broshchak, Ph.D. in Agricultural Sciences, Associate Professor, Senior Researcher, Corresponding Member of the Engineering Academy of Ukraine, Honored Worker of Agriculture of Ukraine (Ukraine): Environmentally and economically sustainable agriculture with the use of Filazonit
Andrii Voitko, Chief agronomist, Stefes, (Ukraine): Sugar beet pests and methods of pest control
Abazar Rajabi, Ph. D., Associate professor, Department of Plant Breeding, Sugar Beet Seed Institute (SBSI) (Islamic Republic of Iran): Sugar beet growing in the context of insuffiient moistening and preventing stress from high temperatures and drought experience of the Islamic Republic of Iran
Vasyl Dolinsky, Analyst of raw materials markets and agriculture of National Association of Sugar Producers of Ukraine "UkrSugar" (Ukraine): Results of sugar beet growing in 2018
Andreas Krieg, Head of the consulting department, KWS (Germany): German technologies in beet growing
Valerie Nikushor, Director of raw materials at Drokia sugar factory SRL Sudzucker Moldova (Moldova): Risk management of sugar beet cultivation in the Republic of Moldova
Maxim Bodnar, Product Manager CIS, Kverneland Group International GmbH (Ukraine): Checkrow planting and other newest solutions for sugar beet sowing
Yuriy Dzhura, Director, Agrinos Ukraine, LLC (Ukraine): Effiency of using biological products by Agrinos company to increase the yield and quality of sugar beet
Alexander Babenko, Product Manager, Timak Agro Ukraine (Ukraine): Secrets of successful nutrition of sugar beet
Alexander Kamenyev, Marketing manager for corn and sugar beet, Bayer LLC in Ukraine (Ukraine): New approaches to plant protection against weeds and pests from «Bayer»
Vitaliy Schuberansky, Director, FRENDT, LLC (Ukraine): Multifaceted approach for the implementation of precision farming on sugar beet
Mykola Martynyuk, Technologist, NVP "ZIPO" (Ukraine): Active ventilation of industrial sugar beet piles. Expectations and realities