In Britain, heavy rainfalls flooded sugar beet fields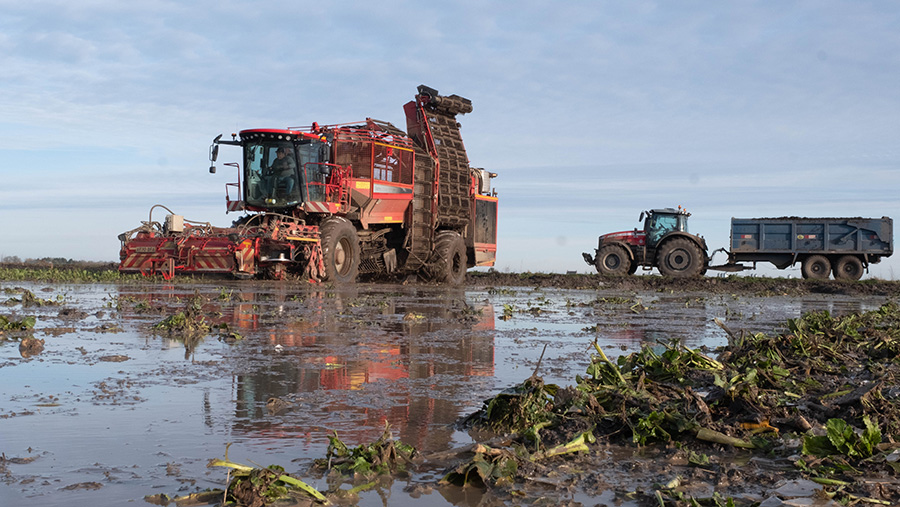 Two months of heavy rainfall has left farmers lifting waterlogged sugar beet in Lincolnshire.
It is reported by Farmets Weekly.
Beet lifted by contractor Richard Ivatt yielded 48 t/ha at 15,5% sugar content, compared with 85 t/ha and more than 17% sugar in an average year at Deeping St Nicholas, near Spalding.
Almost half a year's rain has fallen in parts of the Fens during December (123mm) and January (104mm), leaving many farms with flooded fields and crops under water.
It has been a challenging year for sugar beet, in particular, with yields already suffering due to virus yellows disease.
Although January wasn't an exceptional month for UK precipitation as a whole, some parts of the country saw much more rain than others.
Mark McCarthy, head of the Met Office's national climate information centre, said: «Several areas of England and Scotland saw more than double the amount of rainfall for a typical January».
Loftus in North Yorkshire had more than three times its normal January rainfall.
Elsewhere, East Lothian in Scotland and several East Midlands and north-western areas of England recorded double their average precipitation.
With an average temperature of 2,2C, it was the coldest January across the UK since 2010.
In that year, the average UK January temperature was 0,9C – but the coldest January on record was 1963 with a mean temperature of -1,9C.
January was also the coldest calendar month since March 2013, which also recorded an average temperature of 2,2C.