«Pervukhinskyi Sugar Refinery» PJSC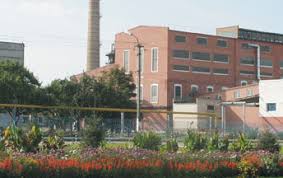 Address of production capacities: Myru str., 29, Guty, Bogodukhiv district, Kharkiv region, 62131.
Pervukhinskyi sugar refinery was built in 1869. It is one of the oldest sugar refineries in Ukraine. It processed about 100 tonnes of sugar beet per day in 1881. At that moment it was a very good indicator.
During the Soviet days, Pervukhinskyi sugar refinery went through several reconstructions, which resulted in increased production capacity.
The company began to receive the financial assistance from «Biscuit-Chocolate» Corporation
since 2001.
In recent years, the corporation invested about 30 million UAH in the development of the sugar refinery Thus, the plant could process almost 3 thousand tonnes of sugar beet per day.
Nowadays, the corporation not only uses the produced sugar, but also helps with raw materials for its plant: it financially provides sugar beet cultivation at the agricultural enterprises. The agricultural producers from neighboring regions (Sumy, Poltava, Donetsk and Dnipropetrovsk) supply raw materials for the plant.